A majestic fusion of European and Imperial Russian styles, the Royal Peterhof Palace is an elegant complex known as the Russian Versailles.
History of the Peterhof Palace
After conquering the Neva delta and founding his new modern European city, Peter the Great commissioned the construction of a new summer residence on the coast: Peterhof, or "Peter's Court" in German. His team of architects and artists would give life to his dream of creating a sumptuous palace with lavish gardens.
Once construction was completed, Peter would make a trip to the Palace of Versailles which would inspire him to expand the complex and its spectacular gardens, something he would do constantly until his death.
Peterhof was captured by the German Army during World War II and they destroyed much of the palace and its gardens, however, restoration started almost immediately after the war - and continues to this day - and the complex is still a majestic place to visit.
Touring the Peterhof Palace
During the tour of the palace, you'll have the opportunity to discover how the wealthy lived in Tsarist Russia: marvel at the Ballroom, the Hall of Portraits, the Chinese Hall, and the amazing Throne Hall.
Just like at Versailles, the impressive gardens are as important as the Palace of Peterhof. The best-known area of the garden is Lower Park, home to a spectacular series of fountains among which the Grand Cascade stands out. This opulent fountain, decorated with gilded sculptures and flowing down multiple levels, descends into the sea.
How to get to Peterhof?
Peterhof is located over an hour's drive, or an hour and a half by public transport, from central St Petersburg. There are public transport connections available, however, the most convenient option by far is to book a guided tour so you don't have to worry about finding out how to get there or the endless queues to buy palace tickets. You can book the tour online at this link: 
Unmissable
Peterhof Palace is one of Russia's architectural gems and it's a true pleasure to stroll through its gardens and immerse yourself in the history of the Romanovs through the majestic palace rooms.
It's important to note that the fountains (one of the main attractions of the gardens) freeze during the winter months and can only be seen in operation from May to October.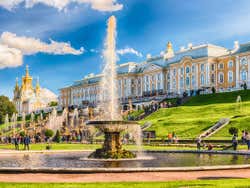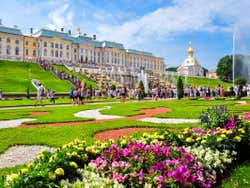 Schedule
Every day from 10:30 am to 9 pm.
Price
Lower park (gardens and main fountains):
General admission: ₽ 1,000 (US$ 12.50)
Children under 16: free admission
Grand Palace:
General admission: ₽ 1,200 (US$ 15)
Children under 16: free admission
Peterhof Palace Half-Day Trip € 80 (US$ 86.50)
Transport
Bus: "Nizhniy Park. Fountains" on lines 200 and 210 from Avtovo Metro station (line 1, red)
River cruise, meeting in Palace Square