Housed in the elegant Shuvalov Palace in St Petersburg, the Fabergé Museum showcases the pieces made by the official jeweller of the Russian Imperial Court.
Peter Carl Fabergé, also known as Karl Gustavovich Fabergé, was a Russian jeweller born in 1846 who became the official goldsmith and jeweller of the Russian Imperial Court and other monarchies in Europe.
The best known pieces of the House of Fabergé are the stunning Fabergé Eggs, Easter eggs made of precious metals and gemstones known worldwide for their elegant designs and high quality. The eggs were commissioned by Tsars Alexander III and Nicholas II as Easter gifts for their wives and mothers, and between 1885 and 1917, 52 of the Imperial eggs were created, 46 of which remain to this day.
Visiting the Fabergé Musuem
The museum building is as impressive as the collection itself. It is housed in the elegant 18th century Shuvalov Palace, which has been beautifully restored to recreate its historical appearance, so that visitors can discover the splendour in which the Russian nobility lived, while admiring the spectacular jewels on display.
The Russian Revolution saw the disappearance of many works of art and jewels belonging to the country's royals and nobility, however the Fabergé Museum still boasts a collection of over 4000 objects. As well as nine of the Imperial eggs created for the last two Russian Emperors, it also has many other pieces of great value that document the history of St Petersburg, such as watches, cutlery and all kinds of precious jewellery.
While the Fabergé Museum is beautifully curated, it does have a very specific theme, so unless you're particularly interested in jewellery, it isn't one of Saint Petersburg's must-visit sights.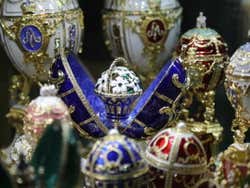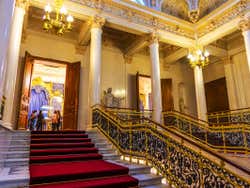 Schedule
Daily from 10 am to 8:45 pm.
Price
Adults: ₽ 500 (US$ 6.20).
Children & students: ₽ 250 (US$ 3.10).
Children under 7 years old: free entry.
Guided tour of the museum: ₽ 700 (US$ 8.70).
Transport
Metro: Nevsky Prospekt (line 2, blue) and Gostiny Dvor (line 3, green).
Bus: lines 7, 24, 27 and 128.