A symbol of the 1917 October Revolution, the Russian Cruiser Aurora is an imposing warship that has been preserved as one of the most special history museums in St Petersburg.
History of the warship
The Russian warship Aurora, moored on the Neva River in Saint Petersburg since the late 1940s, is a fascinating museum ship. From its first attack by the Russians when they mistook it for an enemy ship, to its role in the war with Japan, to a stop in Africa where the ship would end up full of crocodiles, chameleons and turtles...  Aurora has any number of stories to tell!
The cruiser has witnessed and participated in some of the most important events in Russian history, with a signal from the ship marking the start of the assault on the Winter Palace, kicking off the 1917 October Revolution.
During World War II, Aurora was bombed and would sink in the Gulf of Finland. However, after extensive repairs in the post war period, she was permanently anchored in St Petersburg as a monument to the revolution, and was opened as a museum ship in 1957.
Visiting the Russian Cruiser Aurora
The Russian Cruiser Aurora is an entertaining visit for all audiences, providing a dynamic look into Russian naval history and into the history of St Petersburg. Visitors can explore the crew's cabins, discover a recreation of the ship's medical facilities and stroll along the deck, amongst much more.
As such a popular tourist attraction in St Petersburg, it's worth noting that there are often long queues to buy tickets to visit the cruiser, so do bear this in mind if you're short on time during your trip.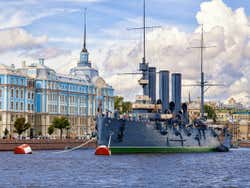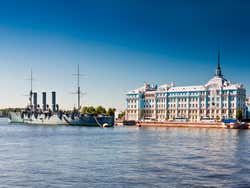 Schedule
Wednesday to Sunday: 10 am to 6 pm
Closed Mondays and Tuesdays.
Price
Adults: 600 RUB.
Students and children: 400 RUB.