With over 100 years of history, magnificent decor and home to the Imperial Russian Ballet, the Mariinsky Theatre is St Petersburg's most important theatre.
Opened in 1860 as the home of the Imperial Russian Ballet, the Mariinsky Theatre has undergone any number of renovations throughout its history, but it retains its original appearance. After numerous name changes reflecting the political changes of the past century and a half, its official name is now the State Academic Mariinsky Theatre.
One of the oldest and most emblematic theatres in Russia, alongside Moscow's Bolshoi Theatre, the Mariinsky has seen the birth and growth of many of the country's best renowned artists, especially ballet dancers and opera singers.
Behind its somewhat austere green-and-white façade, similar in style to the Winter Palace, the theatre's interior is magnificently decorated with marble and gilt in a display of Imperial grandeur. The light from its crystal chandeliers give it an elegant and welcoming feel.
Going to the theatre
The best way to experience the magic of Mariinsky Theatre, and to immerse yourself in one of the most iconic tenets of Russian culture, the ballet, is to buy tickets to attend a show. Ticket prices vary depending on the show and the seats, and it's best to book in advance during the busy summer months. 
There are several different venues that operate under the Mariinsky Theatre company due to much-needed expansion, so make sure to double check which theatre the performance is taking place at if you want to be in the original. If your priority is seeing the show rather than on the theatre itself, you can book ballet tickets for one of the city's most famous theatres via our website: St Petersburg Ballet.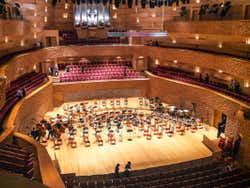 Price
Ticket prices depend on the performance and seats, from 700 RUB to as much as 6000 RUB.
Transport
20 minute walk or bus: lines 3, 22 or 27 from Admiralteyskaya (line 5, purple), Nevsky Prospect (line 2, blue) and Gostiny Dvor (line 3, green).