A former royal residence in the historic centre of St Petersburg, the majestic Mikhailovsky Castle is home to the Portrait Gallery of the Russian Museum.
History of St Michael's Castle
Emperor Paul I of Russia lived in fear of assassination and saw living in the existing royal residence, the Winter Palace, as too much of a risk, so he commissioned the construction of a small castle located on an island reached only by drawbridges.
Mikhailovsky, or St Michael's Castle, was built in a peculiar mixture of architectural styles with Gothic, French Classicist and Italian Renaissance elements, creating a unique appearance that looks different from each façade.
Construction was finished by 1801, but unfortunately for Paul, his worst fears were confirmed shortly after moving to his new castle and like many other Tsars in the history of St Petersburg, he was murdered.
After the assassination, the royal family moved back to the Winter Palace, and Mikhailovsky Castle was abandoned until 1823, when it was donated to the Military Engineering School.
Mikhailovsky Castle today
In the 1990s, the fortress became part of the State Russian Museum, housing the portrait gallery. The castle's exhibitions feature the official portraits of the Russian Emperors and Empresses and various dignitaries and celebrities from the late 17th to the early 20th century.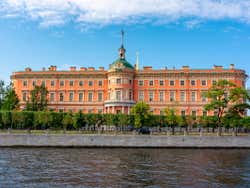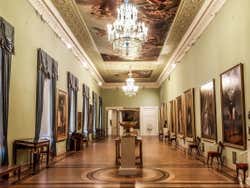 Schedule
Wednesdays, Fridays, Saturdays and Sundays: 10 am to 6 pm.
Thursdays: 1 pm to 9 pm.
Closed Tuesdays.
Price
Adults: 500 RUB.
Students: 250 RUB.
Children: free entry.
Transport
Metro: Nevsky Prospekt (line 2, blue) and Gostiny Dvor (line 3, green).
Bus: lines 3, 7, 10, 22 and 27.