Saint Isaac's Cathedral, which has actually been a museum since 1931, is an enormous neoclassical building that dominates St Petersburg's skyline.
Commissioned by Tsar Alexander I, Saint Isaac's Cathedral took 40 years to construct, and wasn't finished until 1858, 33 years after his death. In 1931, the Soviet government converted the cathedral into a museum, and it has remained as such as ever since. During World War II, the enormous gilt dome that crowns the building was considered too much of a target for bombardment, so it was painted grey to lessen its visibility.
The cathedral at a glance
St Isaac's Cathedral is a Greek-style cross church with Neoclassical and Byzantine influences, crowned with a large central dome and four smaller domes. The grey and pink stone exterior, decorated with numerous sculptures and reliefs, has a total of 112 red granite columns, giving it an imposing look.
If the domes of St Isaac's are impressive from its exterior, their grandiose interior is just as enchanting thanks to the magnificent frescoes that decorate the vaults with detailed images that almost seem to come to life.
The cathedral exudes light and colour thanks to the mosaics and columns of semi-precious stones and marble that decorate it. A stained glass window located in the central altar dedicated to "The Resurrection of Christ" is particularly striking.
Climb the dome
One of the main attractions of the St Isaac's Cathedral is its impressive gilt central dome which, at 333 feet (101.5 metres) tall, is visible from virtually every point in St Petersburg's historic centre. The dome has a colonnaded walkway, from which visitors can enjoy a wonderful bird's eye view of the city, a well-earned reward for all those who venture to climb its 262 steps.
Unmissable
Saint Isaac's Cathedral is undoubtedly one of St Petersburg's must-see attractions. Do bear in mind that this means that there are often sizeable queues both to buy tickets and to enter. It is possible to buy the entrance to the basilica and the dome separately, or to get a combined ticket for the two places.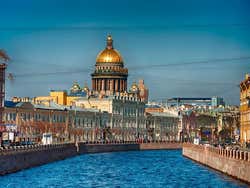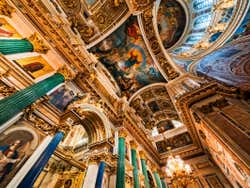 Schedule
Thursday to Tuesday: 10:30 am to 6 pm (May to September until 11:30 pm).
Closed Wednesdays.
Price
Adults: ₽ 350 (US$ 3.60)
Students: ₽ 200 (US$ 2.10)
Young people between 7 and 18 years old: ₽ 100 (US$ 1)
Children under 7 years old: free entry
St Petersburg Cathedrals Tour € 35 (US$ 37.30)