The former official residence of the Russian Tsars, the Winter Palace is an imposing Baroque style building that forms part of the Hermitage Museum.
History of the Winter Palace
Over the 300 years since its construction, the Winter Palace, the official residence of the Russian emperors from 1732 to 1917, has witnessed some of the most important events in St Petersburg's history.
In 1905, the palace was the scene of the Bloody Sunday massacre, and in 1917 after the February Revolution, it became the short-lived seat of the Russian Provisional Government before being stormed by the Red Army, a defining moment in the creation of the Soviet state.
The palace at a glance
The enormous Winter Palace was built to represent the grandeur and power of Imperial Russia. The imposing green-and-white Baroque building has a main façade of over 700 feet (215 metres) long, more than 1,700 doors, almost 2000 windows, 1,500 rooms and over 100 staircases. Inside, it's equally majestic: large, elegant rooms lavishly decorated and furnished to meticulous detail.
Unmissable
The Winter Palace is a must-see landmark in St Petersburg, being the most important building in the Hermitage Museum complex. It is one of the most interesting places in the city thanks to the spectacular works of art that make up its elegant and careful decoration.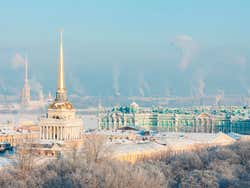 Schedule
Tuesday to Sunday: 10:30 am to 6 pm (Wednesday and Friday until 9 pm).
Closed Mondays.
Price
Main building and palaces: ₽ 500 (US$ 5.20)
Third Thursday of every month: free admission
Hermitage Museum Guided Tour € 50 (US$ 53.10)
Transport
Metro: Admiralteyskaya (line 5, purple), Nevsky Prospekt (line 2, blue) and Gostiny Dvor (line 3, green).
Bus: lines 7, 10, 24 and 191.