The nerve centre of the city under the Russian Empire, Palace Square is the heart of St Petersburg, a majestic space surrounded by elegant buildings that give it a stately character.
Over the years, Saint Petersburg's Palace Square has witnessed some of the major events that would not only mark the course of Russian history, but would have a great influence on world history.
The square is located at an important crossroads between Nevsky Prospect, one of the city's main arteries, and the Palace Bridge, which provides access to Vasilyevsky Island.
What to see in Palace Square?
Hermitage Museum: with a collection of over three million works of art, the Hermitage is one of the most important museums in the world.
Winter Palace: an imposing green-and-white baroque building stretching over 700 feet (215 metres) along one side of Palace Square, the Winter Palace has witnessed some of the major chapters in the history of St Petersburg and is now the main building of the Hermitage Museum.
Alexander Column: in the centre of the square stands the impressive Alexander Column which, at more than 155 feet (47 metres) tall weighing 600 tons, is the largest of its kind in the world. Crowning the red granite triumphal column is a statue of an angel holding a cross.
General Staff Building: built between 1819 and 1829 in an elegant neoclassical style, this impressive building stands out for its enormously long bow-shaped portico joined by a large triumphal arch with majestic sculptures of a horse-drawn carriage on top.
An important location
In a city as big as St Petersburg it's not always easy to find places like Palace Square, an important plaza which remains a pleasant space to stroll and enjoy the calm while surrounded by magnificent monuments. In practical terms, it is to St Petersburg what Red Square is to Moscow.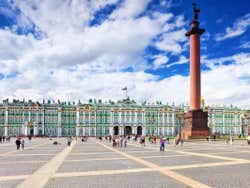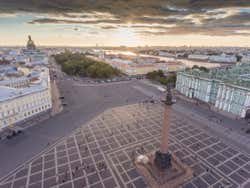 Transport
Metro: Admiralteyskaya (line 5, purple), Nevsky Prospekt (line 2, blue) and Gostiny Dvor (line 3, green).
Bus: lines 7, 10, 24 and 191.