Museum of Soviet Arcade Machines
St Petersburg's Museum of Soviet Arcade Machines is home to 50 historic arcade machines still in perfect working order for the enjoyment of visitors.
During the Communist era, the factories that created army equipment were also commissioned to build arcade machines, so the engineers worked hard to copy the designs of foreign machines using the most modern parts available on the market.
Up to 90 different types of slot machines were produced in the Soviet Union. Some of them were mere copies of Western machines, while others were produced only in the USSR.
The museum at a glance
The Museum of Soviet Arcade Machines has more than 50 incredible machines, still in perfect working order so visitors can play them.
With varying themes from "Sea Battle", in which you look through a periscope to torpedo passing ships, and "Tankodrom", knocking out rocket launchers and jeeps with a tank, to pinball, ice hockey and horse racing, there's something for everyone!
Visitors are given old Soviet kopeck coins to use in the slot machines and enjoy playing the machines. And the machines aren't just arcade games! You can also try a popular Russian drink known as Kvass, a fermented rye drink with a sweet taste.
Very entertaining
St Petersburg's Museum of Soviet Arcade Machines is a fully interactive museum allowing you to journey through time by playing with different machines, discovering a very different - but not so distant - past.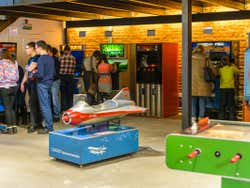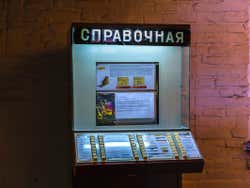 Schedule
Daily from 11 am to 8 pm.
Price
₽ 450 (US$ 5.10) (includes use of 15 machines).
Transport
Metro: Nevsky Prospekt (line 2, blue).