Rivalling Moscow's Tretyakov Galley, the State Russian Museum in St Petersburg, opened in 1898, is home to the world's largest collection of Russian art.
The Russian Museum was established in 1895, its collection of artworks taken from the Hermitage Museum, Alexander Palace and the Imperial Academy of Arts. In 1917, after the Russian Revolution, a large number of private collections were nationalized and relocated to the State Russian Museum.
What's in the museum?
Today, the Russian Museum has more than 400,000 pieces of Russian art ranging from the 11th century to the present day. The museum's exhibitions create a faithful account of Russian history in their displays of everything from valuable Medieval icons to striking creations by contemporary artists.
The main building of the museum is the Mikhailovsky Palace, but collections are also housed in other interesting venues such as Stroganov Palace, Mikhailovsky Castle and the Marble Palace. Inside the Mikhailovsky Palace, it's still possible to visit immaculately preserved rooms from the former royal residence, which stand out not only for their excellent exhibits, but also for their opulent decoration.
Perfect for art lovers
The State Russian Museum in St Petersburg is one of the best of its kind, and a must-see for lovers of Russian art, however, if you're short on time, you'll probably want to prioritise the city's more iconic monuments. If you're interested in visiting the museum accompanied by an expert English guide to provide fascinating explanations about the artwork, take a look at our Russian Museum Guided Tour.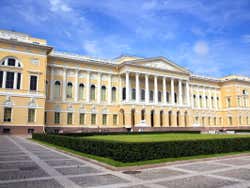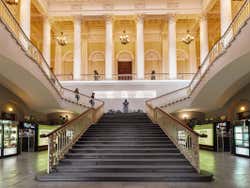 Schedule
Mondays, Wednesdays, Fridays, Saturdays and Sundays: 10 am to 6 pm.
Thursdays: 1 pm to 9 pm.
Closed Tuesdays.