Established by Peter the Great in 1727 as the first museum in Russia, the Kunstkamera is testament to the Tsar's interest in the unusual, growing from his personal cabinet of curiosities to a museum of anthropology and ethnography.
At the time of the museum's inauguration, natural curiosities and rarities aroused great interest among society, which lead to people - including Tsar Peter the Great - creating collections of both animal and human bodies with different anatomical anomalies.
Kunstkamera at a glance
These days, the Kunstkamera is labelled as a museum of anthropology and ethnography, and is now home to almost 2 million pieces. Throughout its exhibitions visitors will see any number of objects collected in the search for natural items with an unusual appearance, which were presented as "accidents of nature".
One of the most gruesome items in the collection is the preserved head of Willem Mons, who was the brother of the Tsar's lover. As well as two-headed taxidermy and other disturbing exhibits, the museum also showcases different world cultures and a collection of minerals and precious stones.
A peculiar museum
The Kunstkamera is home to some very unusual collections, and unless you share the former Tsar's particular fascination with these curiosities, or have a vested interested in anthropology and ethnography, it is not one of St Petersburg's must-visit attractions.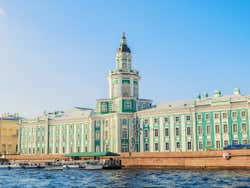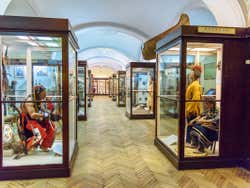 Schedule
Tuesdays to Sundays: 11 am to 6 pm.
Closed Mondays.
Price
Adults: 300 RUB.
Students & children: 100 RUB.
Transport
Metro: Vasileostrovskaya (line 3, green); Sportivanaya and Admiralteyskaya, (line 5, purple).
On foot: Dvortsovy (Palace) Bridge.