St Petersburg's Kazan Cathedral - not to be confused with the Kazan Cathedral in Moscow - was built in 1811 and modelled on St Peter's Basilica in Vatican City despite the disapproval of the Russian Orthodox Church.
The church was the location of the 1876 Kazan demonstration, the first political demonstration in Russia, and following the 1917 Russian Revolution the cathedral was converted into the Museum of the History of Religion and Atheism. In 1992, after the dissolution of the Soviet Union, Kazan Cathedral was returned to the Russian Orthodox Church.
The most iconic view of the cathedral is from Nevsky Prospect, although the emblematic colonnade is not actually the main façade.
Visiting Kazan Cathedral
After passing the cathedral's grand monumental façade, you'll find yourself in a sombre-looking space with very little natural lighting. It is, however, magnificently decorated with numerous sculptures and icons created by the best Russian artists of the day. Inside, faithful pilgrims queue to kiss the icon of Our Lady of Kazan, one of the most venerated in Russia.
A highlight of St Petersburg
In our opinion, the exterior of Kazan Cathedral is more impressive than its interior, but its central location and striking appearance still make it one of St Petersburg's must-see landmarks. The fact that it's free also helps!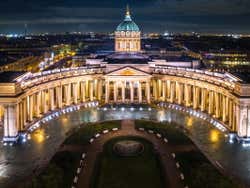 Schedule
Daily from 6:30 am until the the end of the last service (varies, but often at 6 pm).
Transport
Metro: Nevsky Prospect.