The original citadel of St Petersburg, the Peter and Paul Fortress was founded on Zayachy Island in 1703 and remains one of the city's main attractions.
History of the Peter and Paul Fortress
In 1703, the foundations for the Peter and Paul Fortress were laid: six bastions joined by imposing walls to protect the planned new capital of Russia from attacks during the Great Northern War. The citadel, located on Zayachy (Hare) Island in the Neva River, would become the first brick and stone building in the new city of St Petersburg.
From 1720 onwards, the fortress became one of the most feared prisons in the Russian Empire in which many high-ranking and political prisoners were incarcerated, including Maxim Gorky, Fyodor Dostoevsky and Leon Trotsky.
During the 1917 Revolutions, the fortress was attacked by mutinous soldiers and its prisoners were freed, and it was used as a base from which to bomb the Winter Palace. After the October Revolution, part of the fortress became a "laboratory" in which important experiments in rocket technology would take place and another part became a museum. Despite suffering serious damage by bombardment during World War II, it has been faithfully restored and is now a popular tourist attraction.
Touring the fortress
The first building to be built within the imposing walls of the fortress was the Peter and Paul Church, a wooden construction that would later be replaced by the cathedral that stands there today. The Peter and Paul Cathedral remains one of the main attractions of the complex, which is also home to State Museum of Saint Petersburg History and the city's mint.
Unmissable
The Peter and Paul Fortress is one of the most important places of interest in St Petersburg, not just for its legendary history but also for its privileged location which offers spectacular views over the city. There's also a surprising beach just outside the walls, where it's common to see locals and tourists alike taking full advantage of every valuable ray of sunshine.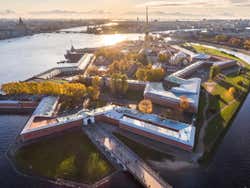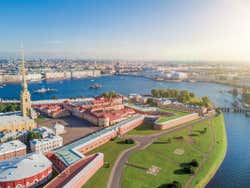 Schedule
Thursday to Tuesday: 10 am to 6 pm (5 pm on Tuesdays).
Closed Wednesdays.