St Petersburg's Peter and Paul Cathedral, located in the fortress of the same name, is the city's oldest landmark and the world's tallest Orthodox church.
Located behind the defensive walls of the Peter and Paul Fortress on Zayachy Island in St Petersburg, the Saints Peter and Paul Cathedral was built in an early Baroque style, marking an important turning point at a time when churches were constructed according to the traditional Russian Orthodox model.
The striking 404 foot (123 metre) tall bell tower, topped with a golden spire and a sculpture of an angel, is an architectural symbol of St Petersburg, despite having suffered a few setbacks, like being struck by lightning in 1756!
The cathedral at a glance
Inside the Peter and Paul Cathedral, you'll find crystal chandeliers, sweeping arches, pink and green columns and lavish altars with gilt details as well frescoes depicting biblical scenes. The cathedral is also home to the Imperial tombs of almost every Russian emperor and empress from Peter the Great to Nicholas II.
At midday every day, there is a special ringing of the carillon bells - well worth organising your visit to coincide with it! What's more, the bell tower is home to a viewing platform offering spectacular views over the city.
Unmissable
The Peter and Paul Cathedral is one of St Petersburg's most important places of interest, both for its great historical importance and for its strategic location within the Peter and Paul Fortress, which offers beautiful views of the city.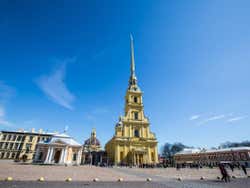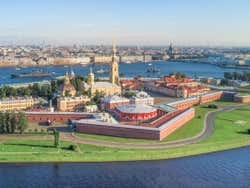 Schedule
Daily from 10 am to 6 pm (Sundays from 11 am).