With a privileged location offering unparalleled views of St Petersburg, Vasilyevsky Island is also home to a number of the city's most important attractions.
The island was chosen by Peter the Great to be the centre of his new city, so construction began on different buildings and monuments. A city plan based on canals rather than streets, like in Venice, was also planned, but destructive floods left these ideas by the wayside. Nevertheless, some of St Petersburg's most important museums and places of interest are located here, so it's well worth a visit.
What to see on Vasilyevsky Island
Located in the delta of the Neva River opposite the Winter Palace, the island is widely considered to offer the best views of St Petersburg. If you're looking for the perfect snapshot of the Hermitage Museum, the dome of St Isaac's Cathedral and the Peter and Paul Fortress, this is the spot!
Looking inwards to the island itself, there are a number of interesting things to see:
Ancient Egyptian sphinxes: a symbol of strength and wisdom, these impressive statues - 3000 years older than the city itself - were brought here from Egypt on a journey that would take over a year. They stand guard outside the St Petersburg Academy of Fine Arts.
Kunstkamara: the oldest museum in Russia, the Kunstkamera is home to Peter the Great's collection of anthropological artefacts. From exhibitions on wildlife and indigenous cultures to pickled foetuses, deformed skeletons and a severed head, the museum represents the Tsar's interest in the different and unusual.
Strelka: the easternmost tip of the island is where you'll find some of St Petersburg's oldest and most important buildings. This is the spot to go for those unmissable views over to the Admiralty, the Winter Palace and St Isaac's - don't forget your camera!
Naval Museum: housed in the old Stock Exchange, the museum offers visitors a tour through the history of the Russian Navy.
Museum of Applied Arts: built as the residence of Prince Alexander Menshikov, the baroque Menshikov Palace's perfectly preserved decor is the ideal place to house the St Petersburg Museum of Applied Arts.
Book a guided tour
To make sure you don't miss any of the sights on Vasilyevsky Island, we recommend visiting with an expert English speaking guide who will tell you all about St Petersburg's history while you explore. Our tour combines the tour with a visit to Zayachy Island too, home to the Peter and Paul Fortress and Cathedral: Walking Tour of Vasilyevsky and Hare Islands.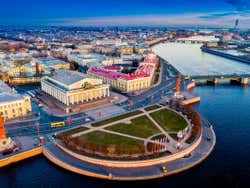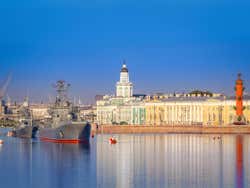 Transport
Metro: Vasileostrovskaya (line 3, green); Sportivanaya and Admiralteyskaya, (line 5, purple).
On foot: Dvortsovy (Palace) Bridge.